BingoFest bonuses: 10 free spins, $25 free and 1500% bonus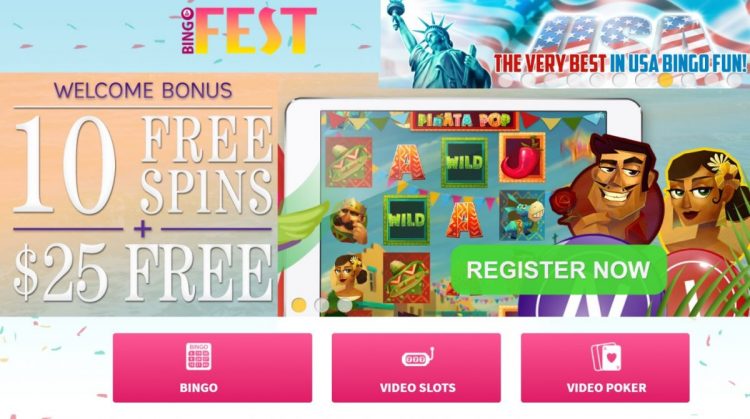 BingoFest welcome bonuses: get 1,500% bonus pack on signup
BingoFest welcomes players with an incredible 1,500% welcome package, that's 500% bonus on your first deposit and a further 600% match bonus on your 2nd deposit. Finally, your 3rd deposit will be matched with an extra 400%. The bonuses do not end there, every future deposit you make receives up to 100% reload bonus. Once you are signed up and ready to play, you will find a fabulous selection of rooms to choose from, these are varied in style and bring you a great mixture of 90 or 75 ball games. There are also many exclusive side games to play along with slots, video poker and Casino games.
---
$25 free and 10 free spins – no deposit bonus
Upon a successful registration your account will be credited with an exclusive $25 free chip instantly (regular offer includes $10 free). Players from UK and Europe will be getting £25 and €25 in their account respectively. Due to heavy regulation of gambling online, you might not access this site from your country. Bonus Terms: 99x wagering req + $100 max cash-out. Check full T&C at casino page.
---
What games are available at BingoFest?
---
BingoFest ongoing promotions
---

$13,000 Guaranteed Big Bingo Event
This month's Big Bingo Event on Saturday, May 25 EDT could see you become next big winner with a guaranteed cash prize of $10,000 to be won in the biggest bingo game of the month! The $13,000 Guaranteed Big Bingo Event is the biggest bingo event of the month and guarantees to create more big winners with $13,000 of cash prizes just waiting to be won.
Join in the big bingo fun from 7:00PM EDT in the Tourney Bingo room on Saturday, May 25 EDT. The big Bingo fun starts at 7:00PM EDT with the first of three top of the hour $1,000 guaranteed games. These exciting cash games are the perfect way to start the event and guarantee $3,000 of cash prizes.
---

Spin & Win Slots tourneys
Spin and Win up to $300 cash every week in exciting Spin & Win Slots tourneys, it really is as simple as that!
Feeling lucky? Then join in the slot fun every week in May as casino play for $1,000 of guaranteed prizes in exclusive Spin & Win Slots tourney. Playing from Monday till Thursday each week, spin the reels on our action-packed Spin & Win Slots tourney slots and one lucky spin could see you walk away with the top prize of $300 cash.
---

Memorial Day $3.000 Guaranteed
BingoFest is filling the USA Bingo room with 3 hours of all-American bingo fun and excitement and at the top of each hour at 6:00PM EDT, 7:00PM EDT and 8:00PM EDT, we will play special Memorial Day $1,000 Guaranteed games.
That's a fabulous $3,000 of guaranteed cash prizes that must be won on Memorial Day at BingoFest. Cards for our special Memorial Day Guaranteed games cost just $2.00 each and with a special Buy 3 Get 2 Free offer on all Memorial Day Guaranteed games, that's more chances for you to be a winner on Memorial Day at BingoFest.
---

Bingolicious Bingo Tourney
Every Friday night at 8:00PM EDT enjoy the sweet taste of winning in the Bingolicious Bingo Tournament.
There's a delicious $1,000 in prizes up for grabs every week to the tourney winners, all you have to do is play Bingolicious Tourney games and if you win the most games throughout the evening, you could be the Tourney winner of $300 cash!
---

Fantasy Bingo Tourney
Join in the magical Fantasy Bingo Tourney every Saturday night from 8:00PM EDT till 11:59PM EDT with over $15,000 in Guaranteed prizes.
If you can win the most games during the Fantasy Bingo Tourney, you could be the Tourney winner of a fantastic $300 in cash!
---

Free World Bingo
Take the vacation of a lifetime every day of the week when you join your bingo roomies travelling the world, playing for free to win fantastic prizes in the BingoFest Free World Bingo room.
The Free World Bingo room is open every day between 1:00PM EDT and 11:00PM EDT and is filled with incredible free bingo games to play that award over $6,000 in prizes every week!
---
Daily BingoFest bonuses
Get more bang for your dollar every day of the week with BingoFest Special Bonuses on your first deposit of the day.
Weekdays: Monday – Thursday
75% BingoFest bonuses on deposits anything between $25 and $49.99
100% bonus on deposits between $50 and $99.99
250% the biggest match bonus on deposits over $100 up to a limit of $1,000 in bonus
Weekends: Friday – Sunday
100% reload bonus on deposits anything between $25 and $49.99
150% BingoFest match offer on deposits between $50 and $99.99
300% the biggest match bonus on deposits over $100 up to a limit of $1,500 in bonus